28 avril 2009
J'ai un nouveau chez-moi joli et sympathique - et avec la place pour le blog! Donc, pour la suite, il faut se rendre ici.

I have a new home on the net, nice and comfortable - and with space for the blog! The saga continues here.
27 avril 2009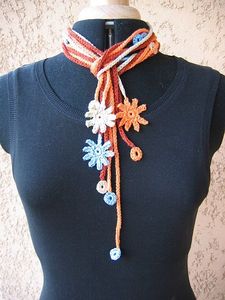 Pour ceux qui se souviennent de mes spaghetti... Voici le résultat, publié dans mon bulletin d'information du mois!
For those among you who remember my spaghetti... Here's the result, published in this month's newsletter.
15 avril 2009
Si un jour vous vous êtes posé la question de savoir à quoi ressemble un écheveau d'un kilo de fil…
If one day you've wondered what a 1-kilo skein of yarn would look like…
Voici la réponse!
This is your answer!
Des volontaires pour m'aider à le mettre en pelote?
Any volunteers to help me wind it into balls?
08 avril 2009
Au crochet on peut tout faire. Par exemple des spaghetti multicolores.
In crochet, you can do anything. Like multicoloured spaghetti.
Si le résultat est un peu plus concluant et utilisable qu'un tas de spaghetti immangeable, ce sera dans le bulletin d'information.
If the resultat is a little more conclusive and usable than a mound of inedible spaghetti, it will be published in the newsletter.
06 avril 2009
Samedi soir, après une initiation au feutrage à l'aiguille fort intéressante, je suis rentrée chez moi avec l'équipement complet pour se lancer. J'ai fait une démonstration de deux minutes à ma fille de 12 ans, et... depuis, je n'ai pas pu reessayer moi-même, car le matériel est constamment occupé par elle.
Saturday evening, after a very nice crash-course on needle felting, I came home with everything I needed to start. I spent two minutes showing the technique to my 12-year-old daughter, and... since then I haven't been able to do anything myself, since she's using the needles and the styrofoam constantly.
Dimanche matin, elle m'a montré sa toute première création, la fleur ci-dessus. Pour la suite, vous pourrez suivre son tout nouveau blog consacré au feutrage!
Sunday morning, she showed me her very first design of her own, the flower above. If you want to see more, she has now a new blog to show off all her felting!
02 avril 2009
Un peu froid au cou le matin? Moi, oui!
Is your neck a bit cold in the mornings? Mine is!
Pour cette raison, et pour le plaisir de crocheter, une collection de trois écharpes:
For this reason, and for crocheting pleasure, a three scarf collection:
Andlau
Pour jouer avec les couleurs, mais aussi avec les points différents qui créent des "bulles".
To play with colour, but also with different stitches used to create "bubbles".
Yzeron
Encore des bulles, mais cette fois-ci avec un seul point et des diminutions et augmentations pour créer la forme. Selon une amie c'est "l'écharpe amigurumi"!
More bubbles, but this time using only one stitch with increases and decreases. According to one of my friends, this is the "amigurumi scarf"!
Montech
Voici une autre idée sur les écharpes en trois dimensions - travaillée dans l'autre sens, et avec des "plis" en relief. Une écharpe très élégante crochetée dans un fil un peu lourd et légèrement brillant.
This is another take on the three-dimensional scarf - worked lengthways with welts that pop. This makes a very elegant scarf when crocheted in a drapey, slightly shiny yarn.
Ces trois modèles sont disponibles dans une seule fiche dans la boutique.
All three scarves are included in one pattern, available in the shop.
31 mars 2009
Supercool: Le nouvau magazine de crochet britannique Inside Crochet est disponible ici pour l'achat en téléchargement. Pas d'attente, pas de frais de port... Il faut imprimer soi-même, mais je crois qu'on peut vivre avec!
This is really cool: The new British crochet mag Inside Crochet is available here to buy and download. No waiting, no shipping costs... You will have to print it yourself, but I think we can live with that!
Pour voir les modèles c'est ici.
Design preview here.
30 mars 2009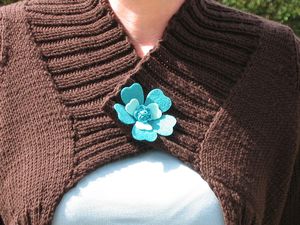 Au mois de mai 2008, j'ai démarré ma version du Tilted Duster de Norah Gaughan, publié dans Interweave Knits à l'automne 2007. Comme c'est une veste tricoté avec un fil épais, sur de grosses aiguilles, mon idée était de pouvoir le porter à l'automne la même année.
In May 2008 I started my version of the Tilted Duster by Norah Gaughan, published in Interweave Knits Fall 2007. Since this is jacket in a rather yarn, knitted with big needles, I thought I would be able to wear it in fall the same year.

Bon, je vais pouvoir le porter à l'automne 2009!
Well, I will be able to wear it in fall 2009!
Modèle tricoté en Bingo de Lana Grossa. Quelques modifications: les manches et les emmanchures tricotées une taille plus grandes (heureusement, car elles sont très moulantes ainsi!), et ajustement des diminutions en raison d'un échantillon différent en termes de rangs.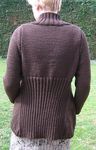 Project knitted in Bingo by Lana Grossa. Some modifications: I worked the sleeves and the armholes one size bigger - luckily, since they're pretty tight now!. I also made some adjustment for my different row gauge.
Et maintenant, va falloir faire une broche sympa pour fermer!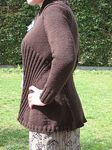 And now, I need to make a really nice brooche for the closure!

27 mars 2009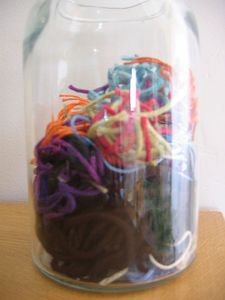 C'est vraiment marrant, cette histoire de bocal, de voir comment les fils et les couleurs se superposent au fil des saisons. Mais qu'est-ce que c'est difficile à photographier!
It's very funny, this jar thing, to see how yarns and colours layer with the seasons. But it's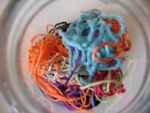 very hard to take a decent photo of it!
Des liens vers d'autres bocaux ici.
Links to other jars here.
24 mars 2009
Rien à voir avec le crochet, le tricot et la couture, tout à voir avec notre façon de voir le quotidien et notre incapacité d'apprécier les miracles qui émaillent notre quotidien. (Uniquement en anglais, malheureusement, mais si vous comprenez, c'est 4 minutes bien investies).
Nothing to do with crochet, knitting or sewing, but everything to do with our way to see everyday life and our inability to appreciate all the miracles that make up our everyday life. 4 minutes well worth your time.

http://www.youtube.com/watch?v=LoGYx35ypus
Et je promets de ne pas me plaindre du fait que mon lave-vaisselle est en panne.
And I promise not to whine about my dishwasher not working.